Drew's Home of Clarkston Recognized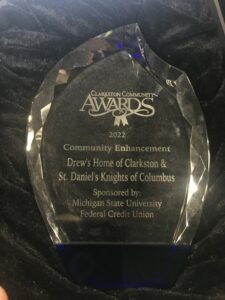 Drew's Home of Clarkston was just recently recognized as a well-respected member of the greater Clarkston Community. At the Clarkston Community Awards breakfast held at the Clarkston Community Church, Drew's Home and the Knights of Columbus from St. Daniels Catholic Church were awarded the Community Enhancement Award.
The award, sponsored by the MSU Federal Credit Union, recognizes a group or service organization's year-long efforts to enhance the quality of the Clarkston Community. Dick Moscovic accepted the award on behalf of all of those Drew's Home members, residents, and volunteers who have worked to make Drew's Home not only the finest but also one of the most respected organizations in Clarkston.