Touchdown for DHC and Everest Academy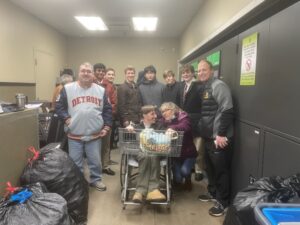 By DHC Media February 2022
Returning cans to Nieman's Market is a regular routine for many DHC residents, who deposit the funds from returnables into an account for educational and entertainment experiences.
Community members donate bags of returnables when available. Recently, donations have increased, and residents were overwhelmed by the generosity.
Fortunately, this problem was solved when Coach Pruchnicki from Everest Academy volunteered members of his football team to manage the endless mountain of returnables. This activity served as fulfillment for their community service hours required for graduation.
A special thanks also goes to Neiman's Market that allowed these young men to exceed the can limit established for the general public.
If you wish to help us fulfill our mission, please donate clean returnables. Contact Dick Moscovic at 248-866-3649.